Protesters have been camping out at a forest in Atlanta, vowing to stop construction of the facility they dubbed 'Cop City'


CNN
 — 

Nearly two dozen people are in jail after violent protests at a forest near Atlanta that's become a national focal point as authorities gear up to begin construction of a massive police and fire training facility.
The facility – dubbed "Cop City" by its opponents – has received fierce pushback since its conception by residents who feel there was little public input, conservationists who worry it will carve out a chunk of much-needed forest land and activists who say it will militarize police forces and contribute to further instances of police brutality.
Protesters have for months been camping out at the forest, vowing to stop construction, while Atlanta's mayor is pushing forward with the $90-milion facility. In January, officers killed 26-year-old protester Manuel Esteban Paez Terán during a clearing operation at the site.
This week's arrests are the latest instance of authorities clashing with opponents of the project amid ongoing national – and global – conversations around policing and the protection of the environment.
Here's what to know.
The Atlanta Public Safety Training Center is set to be built on a controversial piece of forested land that used to be a prison farm. Though it's just outside city limits, that plot of land is owned by the city, meaning residents who live around the site don't have voting power for the leaders who approved it.
In September 2021, the Atlanta City Council – including Andre Dickens, now Atlanta's mayor – approved a ground lease agreement with the Atlanta Police Foundation for 85 acres of the land to be turned into the training center, while another 265 acres would be maintained as green space, the city said at the time.
The foundation, a nonprofit, is privately funding most of the costs through "philanthrophic and corporate donations," according to the city. Taxpayers will fund about $30 million, the city has said.
The center will include, among other things, a shooting range, a burn building and a mock city "for real world training," according to the foundation's website.
Those backing the facility say it's needed to help boost police morale and recruitment efforts. Previous facilities used by Atlanta law enforcement are substandard while fire officials train in "borrowed facilities," the police foundation has said.
The foundation says the center will focus on "community-oriented" policing and set a national standard for "neighborhood sensitivity and devotion to the civil rights of all citizens by law enforcement," and says green spaces and other facilities will be open for public use.
The mayor says the center is needed to meet the city's law enforcement training requirements, which he called "the most extensive" in the Southeast.
"Our training includes vital areas like de-escalation training techniques, mental health, community-oriented policing, crisis intervention training, as well as civil rights history education," he said in January. "This training needs space, and that's exactly what this training center is going to offer."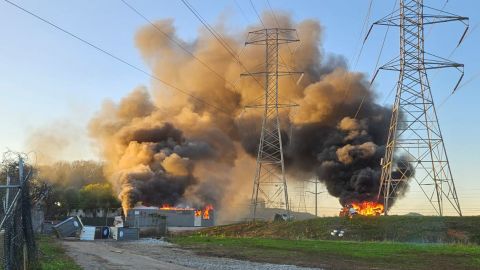 Residents, activists and organizations fighting to stop the project largely focus on two key issues: police brutality and environmental harm.
Leaders of the "Stop Cop City" movement – which covers a coalition of groups, activists and organizers – see the project as a response to the 2020 uprisings over the police killings of Black Americans and say the center will militarize police and promote violent policing tactics, especially on communities of color.
"Cop city is not just a controversial training center. It is a war base where police will learn military-like maneuvers to kill Black people and control our bodies and movements," says a statement from Kwame Olufemi, of the Community Movement Builders group, which opposes the project.
Activists also point out the project's environmental impact in a world already facing the deadly impacts of the climate crisis. The center would carve out a chunk of forested land city leaders previously appeared to have agreed to preserve.
More than a dozen environmental organizations previously urged city leaders to reject the training center's development, saying in a 2021 letter the project would be "devastating for the ecological community" and surrounding "historically marginalized" neighborhoods.
"Fragmentation of the South River Forest will leave the surrounding areas susceptible to stormwater flooding, which is Atlanta's top natural disaster, continually increasing in intensity due to climate change," the letter said.
Residents also worry about how listening to daily sprays of gunfire and other training sounds will impact their mental health.
The 23 people arrested Sunday were charged with domestic terrorism and all but one were denied bond. Atlanta police say they were "violent agitators" who infiltrated a peaceful protest at the site and conducted a "coordinated attack" on officers and construction equipment.
But activists dispute that story, saying instead police targeted people at a music festival in a park separate from the construction site and indiscriminately began arresting people. Atlanta police deny that claim.
Local authorities have repeatedly accused protesters of the training facility of using violent tactics and have charged at least a dozen other people with domestic terrorism in recent months.
Domestic terrorism is a felony charge in Georgia that carries up to 35 years in prison, said Ronald Carlson, an emeritus law professor at the University of Georgia.
"What is the likely intent of the authorities in levying such a serious and severe charge? It seems to be pretty clear that what they're trying to do is to deter additional destruction of property and perhaps injury to persons," Carlson said.
More than two dozen organizations, including the Human Rights Watch, have called for the domestic terrorism charges against "Defend the Atlanta Forest" activists to be dropped, saying they are a "clear attempt to silence dissent."
In a January 18 clearing operation of the site, officers shot and killed Terán, the protester also known as Tortuguita – a nod to the activist's love for turtle conservation.
Teran's mother previously described them to CNN as a "pacifist" and rejected authorities' narrative that Terán fired first.
The Georgia Bureau of Investigation, which is investigating the shooting, has said Terán shot at officers, injuring a Georgia State Patrol Trooper, and authorities returned fire, killing the protester. Activists dispute that claim.
Local and state leaders say the training center will be built. Earlier this year, Atlanta's mayor said the city got the green light from neighboring DeKalb County – where the parcel of land is located – and construction permits were set to be issued.
Georgia Gov. Brian Kemp also backs the project and urged local authorities this week to keep those arrested "behind bars." Both Kemp and Dickens say the majority of those who have been arrested in connection to the project thus far are out of state and don't represent local sentiments.
That's not true, says Sean Wolters, who works within the "Defend the Atlanta Forest" movement. Atlanta residents have been protesting for more than two years in numerous ways, including physically at the site, appealing construction permits and voicing their dissent at city council meetings, including one this week, Wolters said. And the movement has attracted others in its struggle, from across the country and worldwide, he added.
"It's becoming a defining conflict in the US right now," Wolters said.