CNN
 — 

When it comes to "Ted Lasso," the show is often all-consuming for Jason Sudeikis.
As co-creator, executive producer and star of the hit Apple+ series, Sudeikis is always thinking about the show, its plot and characters, he tells CNN.
"This is literally what I do every day," Sudeikis says. "I didn't edit during production just because it was just too big of a load to carry with the writing and the acting, but then you know, being a producer, I was there on set every day going behind-the-scenes with notes, supporting our directors and our DP's. When I go and watch, editing now, it's a thrill. That's a credit to the work that the writers did, but then also the way these actors portray them."
Sudeikis says he shows up to set "excited to see" what the creative team on the series will pull off. The third and final season of "Ted Lasso," which premieres on March 15, will delve even more into the characters' backgrounds, Sudeikis adds, with inspiration coming from everywhere. For instance, he likes to encourage the cast to incorporate their real-life skills and talents into their characters.
"You know every person [on the show] has added something to it," he says. "Sometimes it's just what you hear people talking about, or a conversation I've had off-camera. An example of that would be Jeremy Swift, who plays Higgins, he and I are talking about music one day and he's explaining to me his passion for jazz, now he plays standup bass, and I'm kinda like, 'Oh, I think Higgins is gonna get his goatee back, his jazz goatee, and he's gonna play that bass.' And that's just something I learned at Second City in Chicago, where you're writing a show as an actor."
Other times, "you stay open to it and just let the universe sort of lead the way," he says.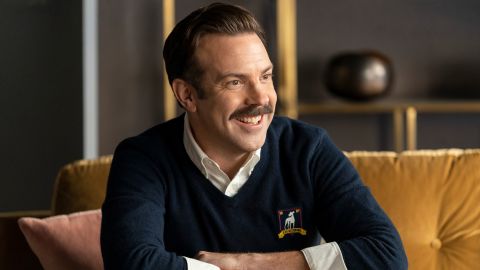 Many ideas for "Ted Lasso," Sudeikis says, have arrived in ways that he "couldn't articulate."
"It feels indulgent to say that, but I say it humbly," he says. "It's what athletes call 'The Zone,' it's a real thing. And sometimes we only feel it in the 20 seconds when we first get in the shower."
After that, he says, "we remember all there is to worry about," in life.
Sudeikis says the show coming to a conclusion this season is bittersweet. He's aware of a desire among viewers of the comedy for more.
"I look at that enthusiasm for [another season], which is not at all in existence or moving towards existence as of now, to be flattering," he says. "We all do. But I also am like still, you know, eyes deep in season three. We're still worried about this and going episode to episode. I didn't know we were gonna get to do three seasons. None of us knew that this thing was going to take off the way it did, and people were going to respond to it the way they did."
So is he saying there's a chance for more folksy, observational wisdom from Ted in the future?
"If that which seemed impossible became possible, then maybe even the impossible can become possible," Sudeikis replies.
"Ted Lasso" Season 3 premieres on Apple+ on March 15.