CNN
 — 

Surveillance video released by a prosecutor Tuesday shows Irvo Otieno being pinned to the floor by multiple security officers at a Virginia state mental health facility in the moments leading up to his death earlier this month.
Dinwiddie County Commonwealth's Attorney Ann Cabell Baskervill's office also released 911 calls about the incident in which a caller described Otieno as "very aggressive" and repeatedly asked for an ambulance, saying he was not breathing.
Taken together, the video and emergency calls offer further details of the final moments of Otieno, a 28-year-old Black man who died March 6 as he was transferred from a Henrico County jail to Central State Hospital, according to Baskervill.
Seven sheriff's deputies and three hospital employees were indicted by a grand jury Tuesday on a charge of second-degree murder, according to court documents. In a hearing last week for the charges against the deputies, Baskervill told the court, "They smothered him to death."
The newly released video begins as Otieno, bound by his hands and feet, is forcibly taken into a room and dragged into an upright seated position on the floor with his back against a chair. Ten minutes later, after Otieno has turned onto his side with three people holding him, his body jerks, and five more deputies and workers move to pin Otieno to the floor.
A clear view of Otieno is blocked in much of the video, but one deputy appears to be lying across Otieno for most of the incident as he is forced onto his stomach. Eventually, Otieno is rolled onto his back, where several deputies appear to be restraining him with their knees. One deputy holds Otieno's head still by grabbing his braided hair.
After 12 minutes of Otieno being pinned to the ground, one deputy can be seen shaking Otieno's hair and attempting to take a neck pulse, but Otieno is unresponsive. Three more minutes pass before CPR begins, with Otieno's limbs still shackled.
Medical workers from the hospital are seen converging on the room as CPR continues for nearly an hour. After he is pronounced dead, Otieno is covered in a white sheet, still lying on the floor, his body briefly left alone in the room.
The time stamp on the video shows Otieno's body being covered at 5:48 p.m.
Baskervill initially declined to release the video but changed course after Otieno's family approved. The recording does not include audio.
Otieno's family and their attorneys watched the video last week and said they were disturbed by how Otieno was treated during a mental health crisis.
"My son was treated like a dog, worse than a dog," Otieno's mother, Caroline Ouko, said at a news conference. "I saw it with my own eyes on the video."
Civil rights attorney Ben Crump, who is representing the family, compared the video to that of the murder of George Floyd, who was handcuffed, forced to the ground and held down by Minneapolis police officers in May 2020. That case sparked nationwide protests over police use of force, especially against people of color.
"Irvo needed a helping hand. What he got was an overdose of excessive force," Crump said Tuesday at a news conference with the family.
Crump said Otieno was not being aggressive or resisting. "He was trying to breathe," he told reporters. "If you were down there, restrained and all of these people on top of you, you would be trying to breathe. You would try to move, too, to let your lungs expand."
Crump also discussed how the video shows that no one else in the room tried to help during the entire 11 minutes that Otieno was being smothered.
Mark Krudys, another family attorney, described Otieno as "gasping for breath" in the video.
"Everybody has an obligation to intervene in that circumstance, to say, 'No, that's not right.' But nobody intervened," he said. "And then, when his body was lifeless, and his pants were dangling on him, they didn't do anything."
Ouko said of Tuesday's legal developments, "Those 10 monsters. Those 10 criminals. I was happy to hear that they were indicted and that is just the beginning step."
An attorney for one of the deputies charged in the case told CNN he's "disappointed" the prosecutor released the video because he thinks it could influence the jury pool.
"I know we were going to file a motion to not have that released," said attorney Caleb Kershner, who represents deputy Randy Joseph Boyer. "Unfortunately, it's too late. It's been released. So I think that was done somewhat strategically by the Commonwealth. That is her prerogative, she can do that. She doesn't have to do that. She chose to do that last night."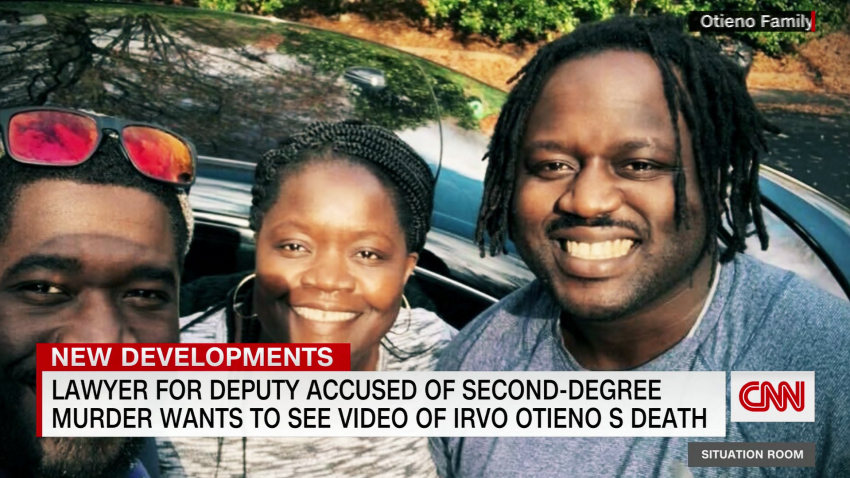 Prosecutor describes VA death in custody
Employees at Central State Hospital called 911 multiple times to report Otieno wasn't breathing and had been "aggressive" at one point, according to 911 calls and the dispatch audio provided to CNN by the Dinwiddie County Commonwealth's Attorney's office.
In what appears to be the first call, at 4:40 p.m., an employee can be heard asking for EMS help, saying they're administering CPR but that the patient is "very aggressive."
"The patient is a new admission, so we're still in the admission unit, and then he's very aggressive," the employee says. "They're doing CPR right now."
The dispatcher asks for clarification on Otieno's condition, "I'm sorry, is the patient aggressive or is he not breathing?"
"He used to be aggressive, right, so they're trying to put him in a restraint, then eventually he is no longer breathing," the employee says.
In another call that appears to take place at 5:02 p.m. a stressed hospital employee says they called "at least 15 minutes ago," and were still looking for medical help for an "emergency."
"You said they were en route the last time, I mean, how far were they coming from?" the employee asks the dispatcher.
"Ma'am they're coming and they're coming as quickly as they can," the dispatcher responds.
"This is just totally unacceptable, and y'all know it too. Totally unacceptable," the employee responds.
Baskervill told CNN in an interview with CNN's Brian Todd that she believed the hospital didn't make the 911 calls until after Otieno had died.
The surveillance video from the hospital obtained by CNN does not clearly show what time Otieno first appears unresponsive, but an officer is seen attempting to take a pulse from his neck at 4:39 p.m. That appears to be around the time that hospital employees first called 911 based on the file names of the 911 recordings provided to CNN.
CNN has reached out to the hospital for clarification on when the initial 911 calls were placed.
Otieno's family is originally from Kenya, and Irvo came to the US at age 4, Krudys, an attorney for the family, told CNN.
He graduated in 2012 from Douglas S. Freeman High School, where – according to the Richmond Times-Dispatch – he played football and basketball, and he attended college in California. Otieno also had a passion for music and was working to become a hip-hop artist, his family said.
Yet he also struggled with mental illness, his family said. Ouko said her son had long stretches where "(you) wouldn't even know something was wrong," and then there were times when "he would go into some kind of distress and then you know he needs to see a doctor."
Otieno's death came three days after he was taken into custody under an emergency order.
On March 3, Henrico Police responded to a report of a possible burglary and encountered Otieno, police said in a news release. Police officers – along with the county's crisis intervention team – put him under an emergency custody order due to their interactions with and observations of him, police said.
According to Virginia law, a person can be placed under an emergency custody order when there is reason to believe they could hurt themselves or others as a result of mental illness.
Krudys said Otieno was experiencing a mental health crisis on March 3, and his mother was at the scene and implored police not to be aggressive with him.
Otieno was taken for evaluation to a hospital, where he became "physically assaultive towards officers," police said. He was held on three counts of assault on a law enforcement officer, disorderly conduct in a hospital and vandalism, police said.
Otieno was then transferred to the Henrico County Jail West.
At around 4 p.m. on March 6, Otieno was taken to be admitted to Central State Hospital, a state-run mental health facility south of Richmond, by the Henrico County Sheriff's Office, according to the commonwealth attorney's office. It's not clear why deputies transferred Otieno.
State police investigators were later told Otieno became "combative" and was "physically restrained" during the intake process, the attorney's office said in a statement on March 14. He died at the hospital, the office said.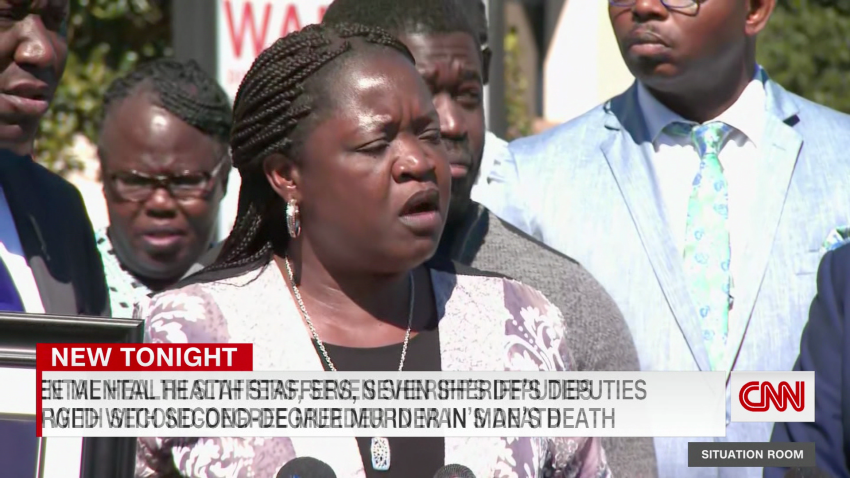 Three more charged: Virginia death in custody
The video was key to the 10 people being charged with second-degree murder, Baskervill, the prosecutor said.
"I've never seen anything like this," said Baskervill, referring to video showing his death.
Baskervill characterized his behavior in the video as "being distressed, rather than assaultive, combative."
Seven Henrico County deputies, who turned themselves in to state police last week, are on administrative leave as investigations by their agency and state police continue, Henrico County Sheriff Alisa Gregory said in a statement.
CNN has sought comment from the deputies. Kershner, Boyer's attorney, told CNN last week they had yet to see video but claimed "nothing was outside of the ordinary" in the lead up to his death.
"They delivered him as fast as they could because obviously this was a man in tremendous need of some sort of medical attention," Kershner said. He added that his client noted they had dealt with Otieno "for a long time and he had a significant amount of violent noncompliance."
Peter B. Baruch, an attorney for deputy Bradley Thomas Disse, said he "is looking forward to his opportunity to try this case and for the full truth to be shared in court and being vindicated."
Three Central State Hospital workers who were arrested last week have been placed on leave "pending the results of the legal proceedings," the Department of Behavioral Health and Developmental Services and Central State Hospital said in a statement.
They were expected to appear in court Tuesday before a grand jury, according to online court records. It was not clear if they have attorneys.
The Henrico Fraternal Order of Police Lodge 4, the local law enforcement officers' union, "stands behind" the deputies, it said in a statement on Facebook.
"Policing in America today is difficult, made even more so by the possibility of being criminally charged while performing their duty," the group said. "The death of Mr. Otieno was tragic, and we express our condolences to his family. We also stand behind the seven accused deputies now charged with murder by the Dinwiddie County Commonwealth's Attorney Ann Baskervill."