Editor's Note: Frida Ghitis, a former CNN producer and correspondent, is a world affairs columnist. She is a weekly opinion contributor to CNN, a contributing columnist to The Washington Post and a columnist for World Politics Review. The views expressed in this commentary are her own. View more opinion on CNN.


CNN
 — 

A few days after French President Emmanuel Macron stunned and angered France's allies by handing Chinese leader Xi Jinping an unnecessary and potentially important victory, Brazilian President Luiz Inácio Lula da Silva started his own trip to Beijing — another in a series of exchanges that shows China's increasing global diplomatic clout.
Lula had best tread carefully. Macron's China visit — and the fallout from his comments about Europe not following America's lead on Taiwan — is an object lesson in the need for world leaders to practice more self-discipline when dealing with Beijing.
Like most of China's diplomacy, the country paints itself as champion of global peace, even as it launches menacing military maneuvers. Xi calls for peace in Ukraine, even presenting a vague, mostly meaningless proposal. But he has done nothing to actually help end the war, or even do as little as condemn Russia's onslaught.
Elsewhere, China already scored a major diplomatic victory brokering reconciliation between Iran and Saudi Arabia earlier this month. But in the background, according to a report from Politico, it is holding advanced talks with Russia and Iran to provide Tehran with the materials it needs to boost its ballistic missiles program. That would be not only a violation of United Nations sanctions, but a lifeline to resupply Russia's arsenal used to bomb Ukraine.
Fueled by an economic muscle that has already made it the top trading partner to more than half the world's nations, China is pressing its diplomatic power and displaying its military capabilities.
In the process, China is receiving help from unexpected sources.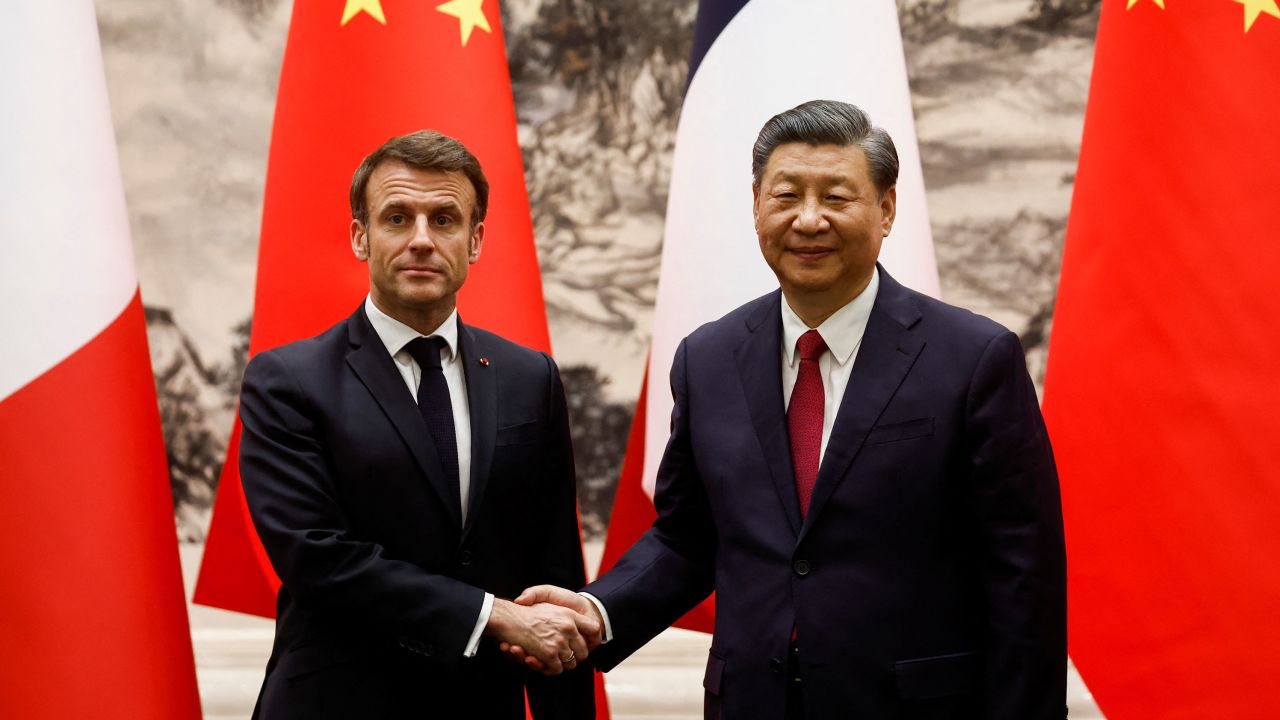 Before Lula landed Wednesday, French diplomats were busy trying to reassure European allies who had moved from disbelief to fury about statements that Macron had made during his trip; statements that at times seemed to align him closer to China than to the Western alliance on vital matters, at precisely the wrong time.
Macron was mostly restating his old call for Europe to develop "strategic autonomy," the ability to fend for itself without relying on Washington. But, perhaps emboldened by China's lavish reception, he expounded on the notion and ended up framing a number of issues in precisely the terms Xi has been pushing. Xi could have hardly asked for more.
With exquisitely terrible timing, at exactly the moment Europe is in the midst of its biggest armed conflict since World War II and tensions over Taiwan growing, Macron committed to what the countries called a "global strategic partnership." He spoke of the need for a "multipolar" world, with Europe as a "third pole" alongside Washington and Beijing, repeatedly appearing to call for distancing Europe from the United States.
On Taiwan, he suggested that it's simply not Europe's problem, saying Europe faces the risk of getting "caught up in crises that are not ours," seeming to open a wider berth for Beijing's stated intention to take over the island.
The timing couldn't have been worse. Just hours after Macron left, China launched an alarming military operation, encircling Taiwan in a simulation of an assault. It was apparently China's retaliation for the visit between Taiwan's President Tsai Ing-wen and US House Speaker Kevin McCarthy.
France's European allies quickly distanced themselves from Macron's stance. Poland's Prime Minister Mateusz Moawiecki said "the alliance with the United States is the absolute foundation of our security." A leading adviser to Poland's President Andrzej Duda, Marcin Przydacz said Europe needs "more America," noting acidly that, "the United States is more of a guarantee of safety in Europe than France."
Notably, France has pledged barely $1 billion in military aid to Ukraine; even as a share of GDP, a fraction of what the US has sent.
Norbert Rottgen, a member of Germany's parliament noted correctly that, "Macron has managed to turn his China trip into a PR coup for Xi and a policy disaster for Europe."
The official US government response was low-key, but Sen. Marco Rubio wondered in a twitter video if Macron was speaking for Europe. If so, he said, perhaps the US could tell Europe, "You guys handle Ukraine."
Ultimately, Macron came across as naïve, or perhaps successfully seduced by China's treatment — a red carpet welcome followed by a staged love-fest with gushing university students.
French officials moved frantically into damage control, canceling a debriefing for foreign diplomats on Macron's China trip, and then declaring that France has not changed its position on Taiwan. The Elysee Palace, issued a statement clarifying that France, "is not equidistant between the United States and China." It added: "The United States is our ally, with shared values."
In the end, Macron's ill-timed, poorly articulated call for a stronger Europe managed to remind Europeans that they are strongest as an integral part of NATO, the world's most powerful military alliance, even if that alliance is dominated by the United States.
It's more than an academic question: European countries feel threatened by an aggressive Russia; many are convinced that victory over Ukraine would lead Russian President Vladimir Putin to expand his aim of reconstituting the old Soviet Union by conquering former members, including independent countries in the European Union.
And Macron's dismissive comments about whether Taiwan matters to Europe — while expecting the US to tackle Europe's problems — prompted some to explain precisely why it does. Not only does Taiwan produce most of the world's advanced micro chips, but a military conquest of democratic Taiwan by China, the country that brutally crushed Hong Kong's democracy, would make the West's allies in the Asia-Pacific region, including Japan, South Korea and Australia, extremely uneasy, altering the balance of power.
Nobody wants a war with China, but the French president's flippant comments only make one more likely by seeming to give China more reason to believe it would not face a unified Western response if it attacks.
Much like Macron, Brazil's Lula has his eye on China's ravenous commercial appetite. That's understandable. Every country wants to promote its economic interests. But it's worth remembering that China's commercial ties come with strings attached.
In 2020, when the coronavirus pandemic erupted, Australia's then-Prime Minister Scott Morrison called for an independent investigation of its origin. China responded with vindictive fury, imposing crushing tariffs on Australian wine, crippling the industry, and thus warning the country about its future behavior.
China has become much more assertive on the global stage. The fact that it has become such an important commercial partner for so many countries, and that it's willing to use that power to achieve its strategic objectives, makes it a fierce strategic player.
World leaders should tread carefully. Some, like Macron, should know better.