They dated when they were teens. 40 years later, they decided to go on vacation together


CNN
 — 

Bo Knapp never forgot the first moment he first saw Beverly Scott. It was August 1968, day one of eighth grade and Beverly was a transfer student at Henderson Junior High in Little Rock, Arkansas. Bo and his best friend were standing in the school hallway when they met Beverly.
"Our hallways in this school, they were outside, and so there's this beam of sunlight shining down on her," recalls Bo. "She had a Black Watch plaid dress on, and she had really beautiful red hair, and she's standing there and she saw us coming, and she turned and smiled."
Bo had only moved to Little Rock the year before, so he and Beverly bonded over both being new in town. And it turned out Bo and Beverly lived just half a mile from each other. A friendship between the two 14-year-olds quickly developed.
"We got to know each other, and we started going steady," Beverly tells CNN Travel.
As a sign of their commitment, Bo gave Beverly an ID bracelet with his name on and she never took it off. And over the next couple of months, they had a sweet, brief courtship. After curfew, Bo would sneak into Beverly's yard to steal a few extra moments with her.
"I'd say, 'Come to my window and I'll talk to you through the window,'" recalls Beverly.
"One day, it was like 10 o'clock at night and I wanted to talk to her, so I went around and knocked on her window, and her dad caught me," recalls Bo. "That might have been the end."
The relationship dwindled from there, but Bo and Beverly remained friends throughout junior high. Bo's best friend even dated Beverly for two years ("very long for that time period," adds Bo.)
"Then we went our separate ways," recalls Beverly. "But we always knew how each other was getting on, and who they were dating – we went on to go to the same high school and college."
But after university, the two lost touch completely. Beverly stayed in Arkansas and got married. Bo lived all over – from Texas to Tokyo – before settling in South Carolina and also getting married.
Years, then decades passed. By the mid-2000s, Bo and Beverly were back on the peripheries of one another's lives thanks to social media. But they lived hundreds of miles from one another, and were both dealing with some tough circumstances – Bo went through a divorce, while Beverly's husband passed away.
Cut to 2013. Bo had been divorced for almost a decade and Beverly was a widow of three years. The former flames, now both 60, received invites to their 40th high school reunion, taking place at the Clinton Presidential Library in Little Rock.
Both Bo and Beverly had attended previous school reunions, but with their partners in tow, and they'd never talked much to one another. This time round, they were each attending alone, and over the course of the evening, they found themselves often in one another's orbit. They didn't talk much one-on-one, but were often in the same group conversations.
At some point in the evening, Bo told Beverly and his other former classmates about his love of sailing – he'd recently got his license and enjoyed getting out on the water whenever he could.
His old friends were enraptured by Bo's sailing stories and a plan started developing – Bo would charter a large catamaran so the old school gang could head out on a 40th anniversary sailing trip.
That night, Bo recalls thinking Beverly was "fun and beautiful," just like he recalled her being back in the day. He was excited that she seemed interested in the sailing trip, but he didn't think anything romantic would happen between them.
"I always had a favorable impression of her – and asked her on the trip as a friend," he says.
As for Beverly, when she told her friends and family she was going on vacation with a bunch of people she hadn't hung out with since she was 17, they were skeptical.
"They thought I was crazy," she recalls.
But Beverly was excited about the trip.
"I'm pretty adventurous," she says. "Love all things on the water! And I felt very secure and comfortable going with such great people I had known most all my life, even though I had not seen or kept in close contact with them."
Her only concern was that the group might not have the same camaraderie they'd had as teenagers. But she needn't have worried, the trip was great fun from day one.
As the catamaran sailed around the Caribbean, stopping off at sandy beaches and ocean view restaurants, Bo and Beverly found themselves increasingly drawn to one another.
"Nothing really happened on the trip," says Bo. "Except I noticed she was perfect: cheerful, self reliant, capable, fearless."
"We had a chemistry – that was kind of undeniable, honestly," says Beverly. But at the time, she wasn't sure if she was ready to date again – whenever friends back home suggested setting her up, she'd always bow out. She was nervous about the idea, and hated the idea of dating feeling forced.
One evening, the catamaran stopped off at Bomba's Shack on Tortola, a spot in the British Virgin Islands known for its surfing and partying scene.
It was "literally a shack of driftwood and washed up lumber slapped together haphazardly on a remote beach," recalls Bo.
When Bo and Beverly's group arrived, a full moon party was in full swing, a live band playing and revelers drinking, dancing and celebrating.
The old friends stayed out into the early hours of the morning. Then something unexpected happened.
"We were dancing and he kind of kissed me," recalls Beverly. "We call it the 'accidental kiss.'"
It was, says Beverly, "very unexpected, short and sweet and made my heart skip a beat or two."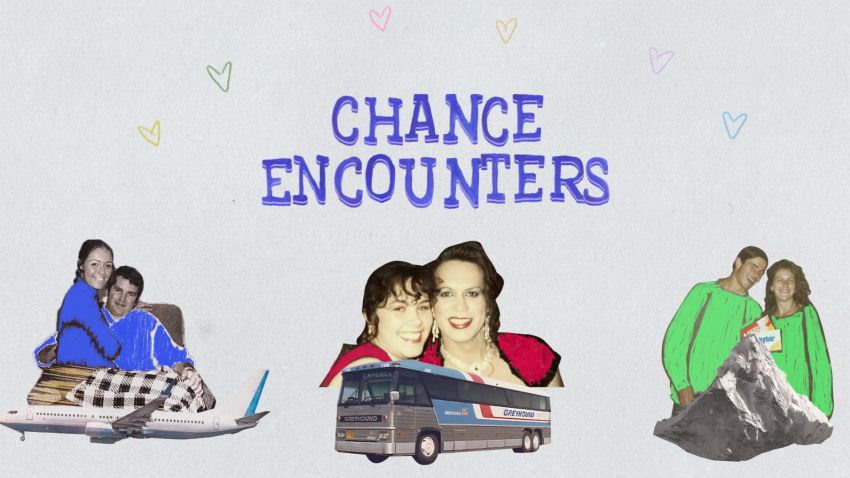 Meet the couples who fell in love while traveling
The next day Bo sent Beverly an email, apologizing. "I'm sorry about the kiss," he wrote. "I didn't mean for that to happen. But I might like another one."
When the message popped up on Beverly's phone, she didn't know what to do – she felt the same way, but she didn't want to risk making things awkward by disrupting the group dynamic on the ship. Beverly decided to ignore the message, pretending she hadn't seen it under the guise of not checking her inbox on vacation.
But when the sailing trip came to an end and Beverly and Bo returned to their home towns some 600 miles apart, Beverly finally replied. From there, the two started messaging back and forth.
These emails got deep quickly, as Bo got frank about his views on life, travel and everything in between. He was curious to learn more about Beverly, "to see if we were aligned," as he puts it.
It was soon obvious they were.
"Beverly said she lived by putting energy and focus on five Fs: Faith, Family, Friends, Fun, Fitness," says Bo. "These were exactly my priorities as well."
In one of his emails, Bo wrote that he'd never thought about getting married again, but he was starting to consider the prospect.
"Why don't we have a date before we talk about the rest of our lives?" wrote Beverly in response.
Bo arranged to travel to Little Rock to meet Beverly for a lunch date. Somehow, Beverly's mother, uncle, sister, brother-in-law and niece ended up inviting themselves along – and then Beverly's adult kids found out and wanted to come too. All Beverly's family members were keen to suss Bo out, and no one wanted to miss the occasion.
That morning, Beverly picked Bo up from the airport and filled him in on the extra attendees.
"So we might want to stop by the Capital Hotel bar and have a quick drink before we go," she told him.
Lunch was a baptism of fire, a "first date with like 10 people," as Bo puts it. But Beverly's family were fun and welcoming, and quickly assured of Bo's good intentions.
"He was thrown into the whole family pretty quickly," says Beverly.
As for Beverly's friends, they were initially a bit concerned, especially when Beverly started talking about moving to North Carolina to be with Bo.
"They'd become pretty protective of me because of being a widow in the group and all of my friends' husbands kind of took me under their wings," says Beverly.
But once Beverly's core group met Bo, and decided he was a good guy, they were happy and excited for her.
"Now they're all good friends," says Beverly.
Bo was initially worried his best friend, the one who'd dated Beverly after he did, back in the late 1960s, might not take the news so well. But this friend, while joking that Beverly had broken his heart back in the day, said he was delighted for his old pals and their unexpected happiness.
In fact, all the old middle school crew were "thrilled that we both found each other and were so well suited," says Bo.
After they had their loved ones blessings, Bo and Beverly became serious quickly.
"When you know, you know," says Beverly.
Plus, after losing her first husband, Beverly was keenly aware of how fickle and how short life can be. She didn't want to waste a moment – and Bo was on the same page.
"We were like, 'We've got to get this show on the road, we don't have much time,'" says Beverly. "So we've made the most out of every single second."
Travel became a cornerstone of Bo and Beverly's relationship. Their first trip together as a couple was to watch the Rolling Stones play a gig in Rio de Janeiro, Brazil.
And then in 2015, on a trip to Paris, Bo proposed to Beverly at the top of the Eiffel Tower.
They were on the top level, by the cafe, and had just spotted some hired photographers taking pictures of the visitors, framed against the panoramic views.
"I said, 'Let's get our photo taken,'" recalls Bo. "So I went and grabbed a photographer, and the photographer came, and then I kneeled."
"I said, 'Bo, they're taking our picture, get up! What are you doing down there?'" recalls Beverly, laughing.
But once she realized what was happening, Beverly said yes, overjoyed.
The two started planning a wedding, looking at how they could bring all their family together for the occasion, but they soon switched gears.
"We finally look at each other and go, 'Let's just do something for ourselves.' We came back and had a big party – but we decided to just run away and get married," says Beverly.
The couple eloped on Turtle Island in Fiji. It's a day that Beverly remembers as simply "really cool."
Since then, Bo and Beverly have embarked on at least one cycling trip and one sailing trip each year, often with various groups of friends in tow. They also love traveling with their kids and grandkids.
"We want to do as much as possible while we are still able," says Bo.
"Beverly is 10 times more adventurous than the average person so she makes our lives so exciting," he adds. "At our age a lot of our friends are content to sit on the couch. She has too much life force in her to sit still."
Today, looking back on their middle school romance, their decades apart and their unexpected reunion is a moving and gratifying experience for Bo and Beverly.
Beverly thinks their 14-year-old selves "would be so happy for us and proud of us."
"We both have gone through so much and have such a deep appreciation and love for each other and our life together," says Beverly, adding she's so grateful to have had "two soulmates in my lifetime, which is unheard of."
This summer, Bo and Beverly will be heading to their 50th high school reunion. This time, they'll be rocking up hand in hand.
"It seems like yesterday we graduated high school," says Bo. "Life flies, it doesn't seem like it sometimes, especially when you're younger – but don't waste time. Don't worry about the little stuff and enjoy every moment. If you wake up, it's a good day, right?"
"Enjoy every moment," agrees Beverly. "We are."