As much as I love using Macs, there's one glaring problem with them: their built-in webcams. The problem is particularly pronounced in Apple's best MacBooks, but even the newest iMac and the incredible Apple Studio Display have webcams I find wanting. It's not that they're terrible — they get the job done, and often better than Windows-running alternatives — but given how fantastic even the front-facing selfie camera is on years-old iPhones, it feels like Apple, ahem, phoned it in on its computers.
Apple, seemingly recognizing this, gave us an alternative with the Continuity Camera feature, introduced in macOS Ventura and iOS 16. This delightful feature lets you use your iPhone's main camera as a webcam, and it works better than you'd think. Of course, to keep your hands free during video calls, you'll need a mount, and that's where the Stouchi MagSafe Continuity Camera mount comes in.
Made for Mac laptops and iPhones with MagSafe — that is, a ring of magnets embedded in the phones that lets you connect compatible chargers and other magnetic accessories to the phone — it purports to pull triple duty as an easy iPhone laptop mount, a one-handed iPhone stabilizer and a kickstand for when you want to watch YouTube and, I don't know, eat a burger.
If you're looking for a cheap way to mount your iPhone to your Mac to use it as a webcam, the Stouchi delivers.
I wanted to see what was out there for easy Continuity Camera mounts with MagSafe compatibility, and I didn't want to shell out $30 or $40 for what amounts to a circle with magnets in it. Stouchi showed up in the search results, and having the same basic design and features of the Belkin Continuity Camera mount, I decided to pick it up. Worst case, it's not good and I can return it. But if it works? Well, if it means turning my iPhone into a superb webcam for less than 20 bucks, you can go ahead and sign me up.
Turns out, the Stouchi Continuity Camera mount is a great under $25 score. Webcams are pricey if you want a decent one, and if you want a good one, you have to sell your firstborn. No, really, there's a contract and everything. But even when you get the best webcams — I'm talking something like the famed 4K Logitech Brio, here — once you get them hooked up, they just aren't really … that nice.
The Stouchi mount, on the other hand, is dirt cheap, and if you've already got any iPhone made in 2018 or later, it's almost guaranteed to have a nicer rear camera than what you'd find on most dedicated webcams. The mount itself is a solid little product. It's mostly aluminum, with a padded, grippy surface with a magnetic ring beneath it. On the back, a flip-out hook lets you hang your phone on your MacBook's display, with the rear camera facing you. Even better, it has a built-in kickstand that has a ring for your finger, making one-handed use easy. It's small enough to be unnoticeable in your pocket too, so you can just keep it there all day if you want.
I had some concerns that the metal body might scratch my laptop. Being unwilling to put that to the test against my precious MacBook Air, I decided to try scratching an old aluminum-backed iPad I have lying around, and to my relief, the Stouchi mount gave first, leaving marks on the iPad that easily wiped off, while the finish of the mount had clearly rubbed off a bit.
Related: MacOS Ventura brings small but significant upgrades to your MacBook or Mac desktop
There are a couple of things to note, however: The little kickstand on the back is flimsier than the Belkin Continuity Camera mount for MacBooks, and won't hold my iPhone 13 Pro up at extreme angles, where Belkin's mount will. Also, the Stouchi mount is slightly heavier than the Belkin option, making the tipping point before your MacBook screen starts to fall backward ever-so-slightly sooner. That's not ideal, but it's far from a deal breaker, especially for 20 bucks.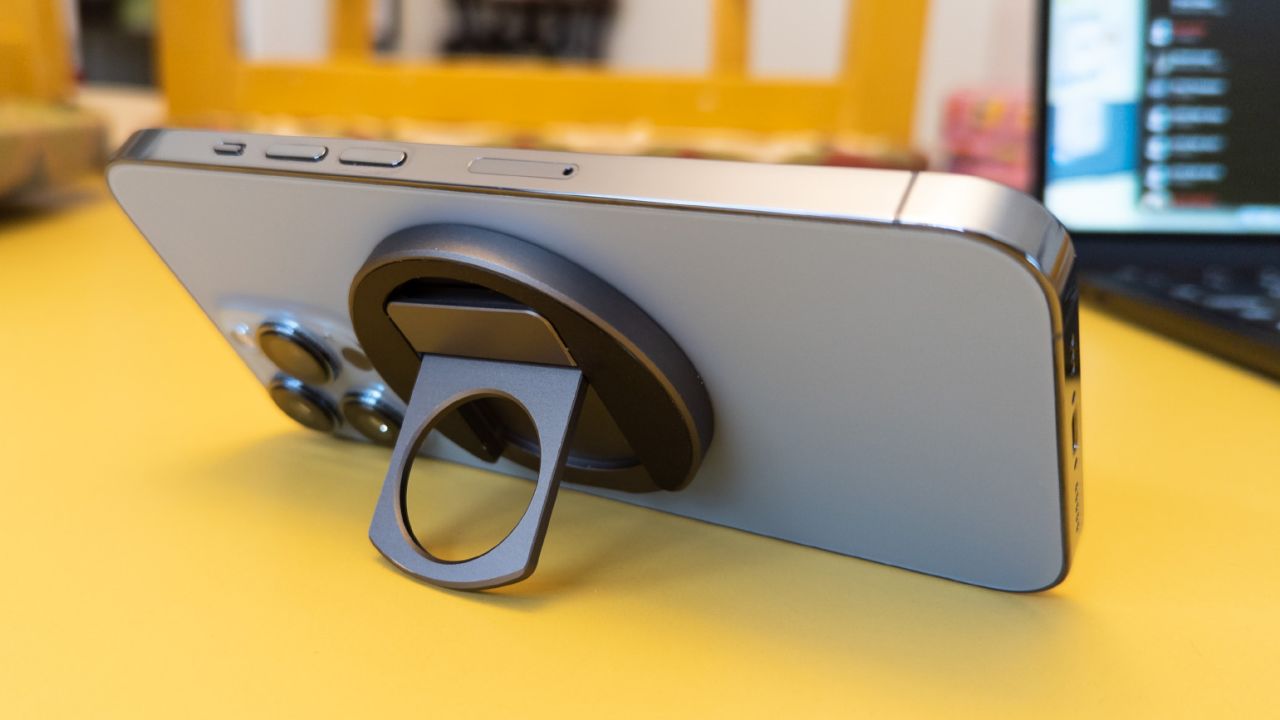 So before you go looking for a true stand-alone webcam, consider picking up the Stouchi MagSafe Continuity Camera mount. Even if the Continuity Camera feature doesn't work for you (although it should if you follow our handy guide), it's a nice little Pop Socket stand-in for one-handed phone use and kickstand purposes.